About this article
| | |
| --- | --- |
| Summary: | This article explains what FDMEE Insight is, why it was created and how this free service can help you process your data more efficiently and improve your overall EPM experience. |
| Audience: | EPM administrators, user, managers, consultants |
What is FDMEE Insight?
FDMEE Insight is a free service that analyzes a log file from FDMEE / Data Management in just a few seconds and performs the following tasks:
Summarize the most relevant information for each Process Step (like Import/Validate/Export)
Check for errors or warnings and determine process status
Prepare high-level overview of the status and duration of each process step
Pin-point errors at a glance
Generate a list of kickouts (if applicable) to be attached to the email
Determine error cause and possibly provide steps for resolution
Send email with a detailed overview of the data load process
Here is a simple example of what an email from FDMEE Insight can look like when you are loading GL balances from a text file to PBCS and there are some kickouts: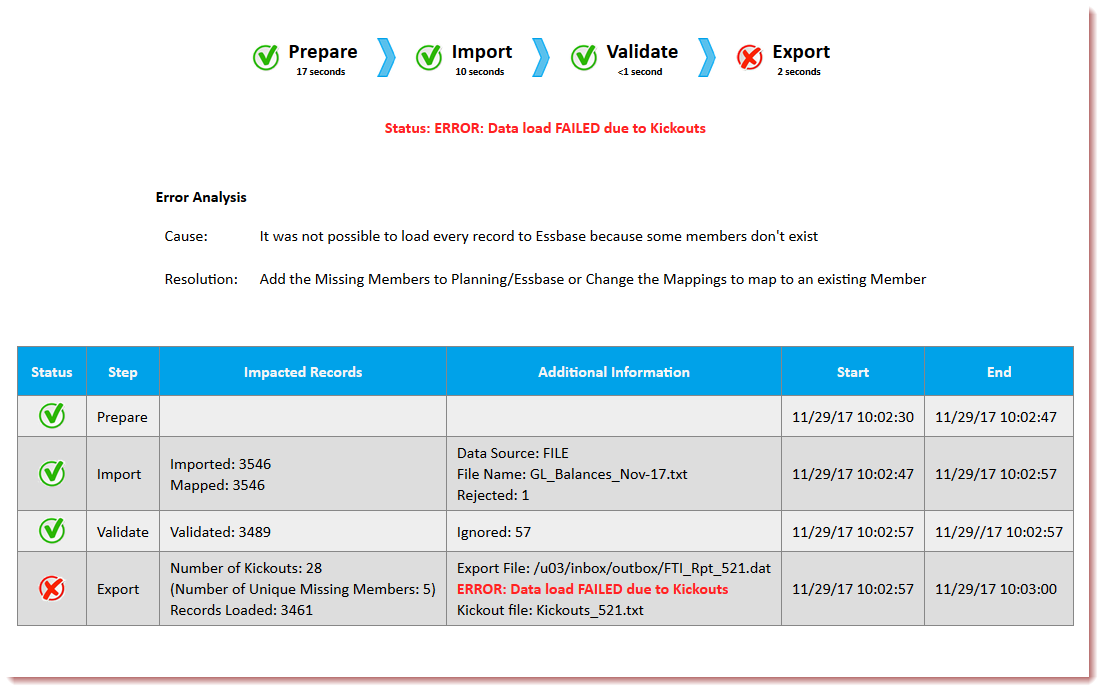 What's the Purpose of FDMEE Insight?
If you are working with Hyperion/Oracle EPM (on-premise or cloud) and rely on FDMEE / Data Management to load data, you've probably been in a situation where your data does not tie or something is not working as expected. Many times the one missing piece of the puzzle is contained in the log file , but often these logs aren't easy to read and interpret.
We have been working on 50+ EPM implementations since 2006 and have found ourselves as well as many of our colleagues and customers struggling to identify the root cause of a data load problem. With FDMEE Insight we wanted to create a utility that is easy to use and provides answers immediately so you can continue with your work quickly and don't get stuck.
While developing this service, we noticed that there is a very larger number of use cases, configurations and potential errors that can occur with FDMEE. Please be prepared that FDMEE Insight might not be able to successfully process your file or identify the correct root cause of an error. We do consider the application in a beta state and would like to collaborate with the EPM community to build an even better product.
How can I use FDMEE Insight?
FDMEE Insight can be used in 3 Simple Steps (please read our terms of use as well as the privacy policy before you continue with the next steps):
Upload your log file by clicking on the file upload icon or simply dragging the the file to the rectangle surrounded by the dashed line. Please make sure the file you are uploading has been created with Log Level set to 5.
Enter your email address so you can receive the FDMEE Insight email.
Click on Analyze File to process the file and then wait a few seconds until you receive the email notification.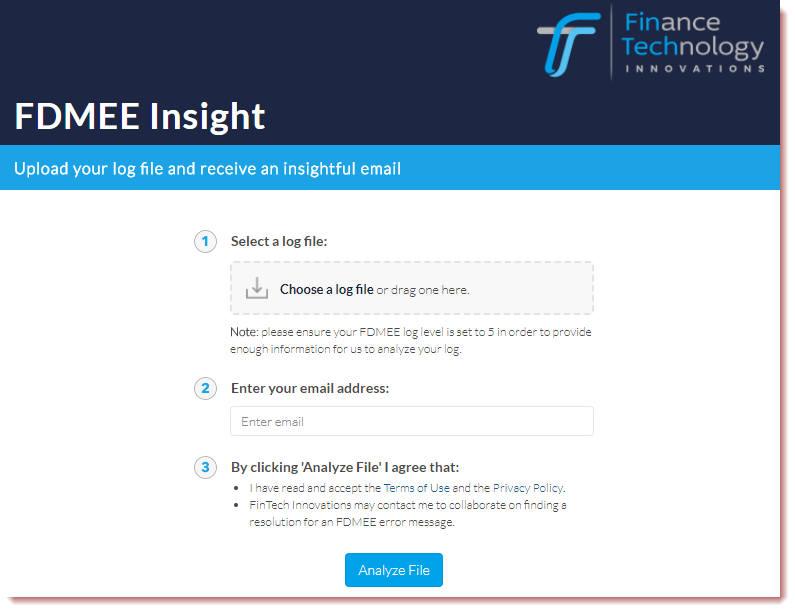 Please note: in case something goes wrong, we might contact you to so we can resolve the issues together.