A new decade just started and we all know that Finance Transformation will be a key discipline for organizations to stay competitive as it will allow them to increase efficiency and adapt to changing business requirements more quickly.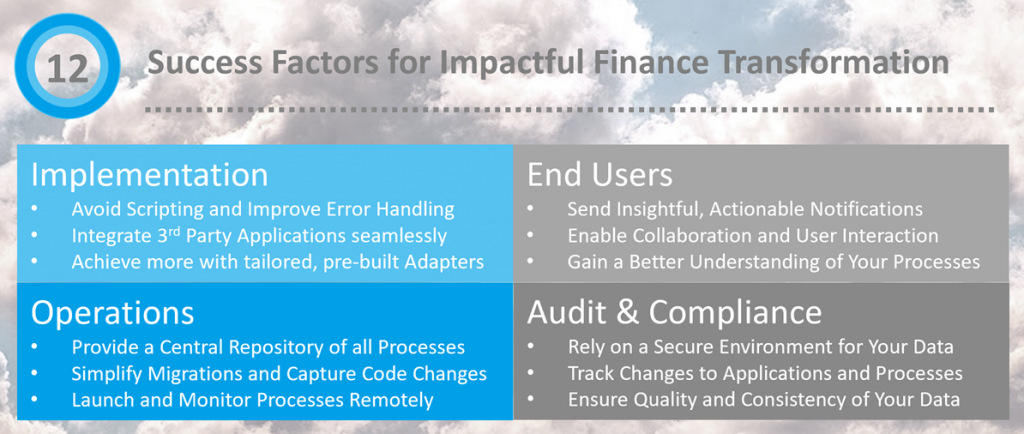 12 Success Factors for Impactful Finance Transformation
In this article we are focusing on the success factors which are crucial across four main areas of Finance Transformation projects:
Implementation
Operations
End Users
Audit & Compliance
Along with this we are introducing a new solution called ICE Cloud – the Integrated, Compliant and Efficient Cloud. It is a Finance Transformation Platform which enables IT and business teams to work closer together and deliver projects faster than before.
Implementation
Avoid Scripting and Improve Error Handling: there's a lot of low-hanging fruit to get started, but things get messy quickly as processes are evolving and getting more complicated. Error Handling is key.
Integrate 3rd party applications seamlessly: managing data files and modifying them manually exposes businesses to unnecessary risk and effort. Connecting directly is easier than you think and ensures consistency.
Achieve more with tailored, pre-built adapters: there are a lot of best practices for processing data. With ICE Cloud's Application Intelligence modules, our customers can leverage our smart, pre-built components and expedite the development cycle significantly.
Operations
Provide a Central Repository of all Processes: executing scripts and all kinds of other processes without a central repository for all processes prevents business teams from identifying and resolving critical errors quickly.
Simplify Migrations and Capture Code Changes: managing the development lifecycle and ensuring consistent results is hard enough. What if you could migrate objects with 1 click, track all changes and restore as needed?
Launch and Monitor Processes Remotely: it's almost 2020! No one should have to log on to an on-premise server to start or monitor a process. Instead manage your jobs from a mobile device when out of office.
End Users
Send Insightful, Actionable Notifications: notifications should provide immediate insight about any issues. They should be easy to configure, insightful and sent to the appropriate users – via email, Slack, Teams etc.
Enable Collaboration and User Interaction: technology allows us to implement rules to automate processes. But we are the ones to provide key inputs. The ability to interact with a Transformation platform is crucial
Gain a Better Understanding of Your Processes: do you and your team fully understand what your automation processes are doing and how to maintain them?  A code-free solution with meaningful logs builds confidence
Audit & Compliance
Rely on a Secure Environment: confidential data and passwords need to be managed securely. Eliminate the risk from unauthorized access to Payroll or personal information by managing it the right way!
Track Changes to Applications and Processes: changing business needs require frequent changes to data, mappings and processes. Knowing exactly what has been changed builds confidence and expedites audits
Ensure Quality and Consistency of Your Data: identifying data and metadata errors proactively saves our customers hundreds of hours as they find problems immediately and can resolve them BEFORE they begin their planning and analysis.
Finance Transformation with ICE Cloud
This video provides a quick overview of ICE Cloud and how it helps our customers to deliver highly successful Finance Transformation projects across the entire process landscape.
Conclusion
The question is not IF you will focus on Finance Transformation initiatives, but HOW you are going to implement your projects in the most efficient way. To enable project teams to achieve and even exceed the expectations, ICE Cloud provides the crucial success factors. With ICE Cloud, companies increase the efficiency of their Finance processes dramatically – without writing a single line of code.