You should read this article if you are wondering WHY everybody tells you that we are in the Cloud age but you still need to log into an on-premise environment to execute an EPM automation process. We are showing how easy it is to manage EPM Automation processes from a mobile device – whether your EPM environment is on-premise or in the cloud!
Note: This is the second article in our "Love your EPM" series. Check out our first article as well to learn how easy it is to upload data from on-premise to the cloud.
The Power of the Cloud
When we first started working with the EPM Cloud, we realized the many advantages that come with the cloud, like simplified maintenance, automated patching, work from anywhere, mobile support, to name just a few. If you are an EPM Cloud user, you are probably enjoying the flexibility of accessing your applications from anywhere – on a desktop/laptop (PC or Mac), tablet or phone. This flexibility allows work and life to be balanced a lot better if needed.
EPM Automation – lagging behind the promise of the cloud?
When it comes to automating processes, however, there is a big gap in terms of usability and ease of access. The go-to approach that most EPM Cloud customers are taking is based on EPMAutomate, a command-line utility that is controlled via batch scripts. On-premise customers are often leveraging FDMEE, ODI or other integration tools that are also triggered via scripts. These processes can only be launched from a physical server that the users need to log into so they can execute a process.
Love your EPM – love it even more with ICE Cloud
The Integrated, Compliant and Efficient Cloud ("ICE Cloud") bridges this gap with ease. Let's assume we have already built an automation process for (E)PBCS called "Load Data to EPBCS" as you can see in the little video below. This process consists of the following steps:
Set Substitution Variables for Period and Year
Create a data file by extracting data from an on-premise database
Execute a Business Rule to clear data
Load data to (E)PBCS – either via Data Management or directly with our powerful (E)PBCS integration adapters
Execute a Business Rule to aggregate the data
This process can be launched from the ICE Cloud Dashboard by clicking a button. The user is prompted for any relevant input variables, like the GL Period.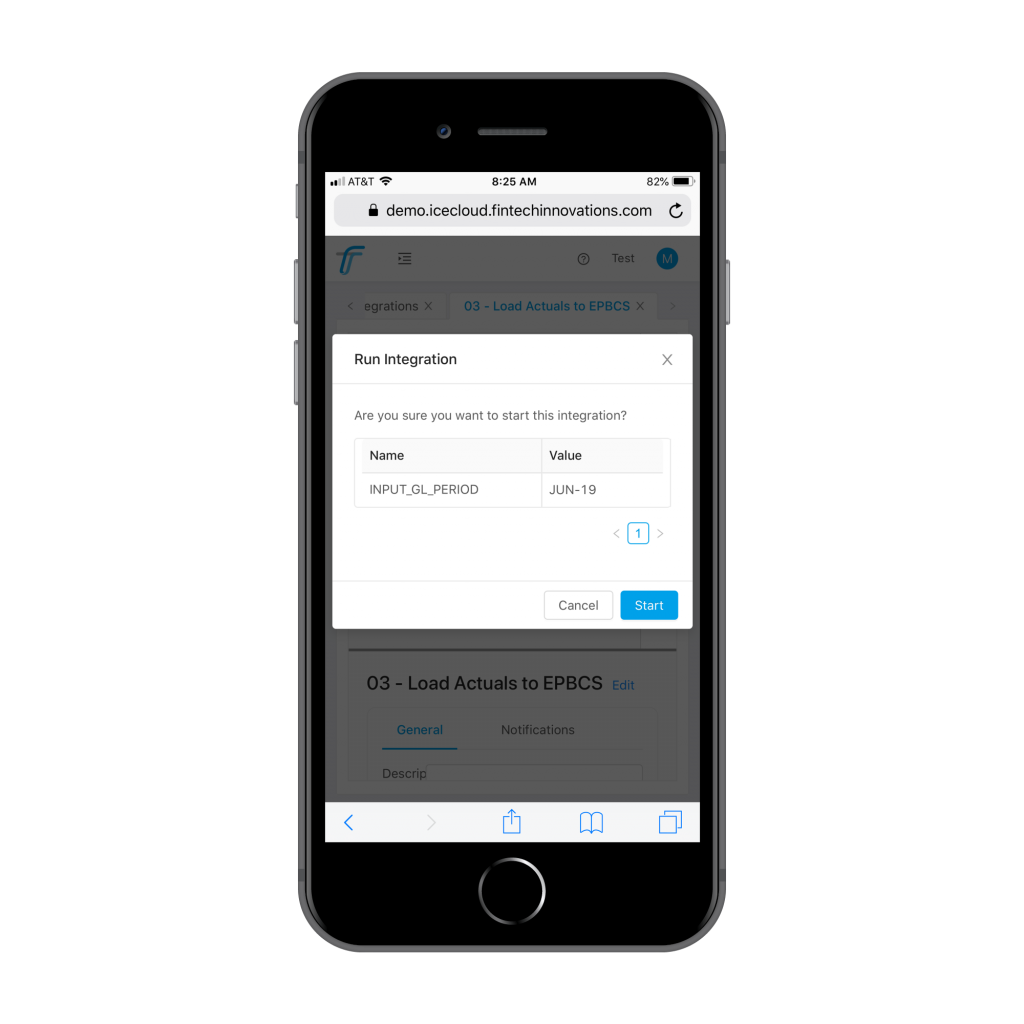 That's it for launching your processes.
And of course… there's more
Now you know that you can launch your EPM processes – whether on-premise or in the cloud – from anywhere and from any device using ICE Cloud. But of course that's just the tip of the "ICE" Berg. If you can trigger a process from anywhere, you should also be able to monitor its execution from anywhere. Stay tuned for our next articles to learn more – or contact us today to schedule a demo and transform your EPM experience.
And as always: If you love your EPM, you will love it even more with ICE Cloud! #LoveYourEPM