One of the main challenges with the Oracle EPM Cloud has been the integration of on-premise data with the cloud. The need to create a file that can be uploaded was either done manually, or IT has created a file with an ETL/integration tool that was then uploaded to the cloud. For many customers, traditional solutions to this challenge have two significant drawbacks: a lack of transparency and several process dependencies that prevent seamless integration.
Data integration shouldn't be a black box
In conversations with many EPM customers one recurring theme about integration of EPM applications and other systems across various software vendors has been the lack of transparency around data integration. While Finance and Accounting teams are comfortable managing their EPM applications mostly by themselves – which is true even more with the cloud than it was before in the on-premise world – the data integration processes have been described by many as a black box.
Wikipedia defines a Black Box as a system which can be viewed in terms of its inputs and outputs, without any knowledge of its internal workings.
For our EPM processes this means: somehow a file is being generated, but there is little insight into how this file is being created or how any changes can be made. Once the time comes for implementing enhancements, there is uncertainty about how the process works, how feasible it is to make a certain change, and how much time it will take to fully understand the impact of these changes.
Seamless integration is not possible
Typically EPM Automate triggers the data load processes for EPM Cloud applications. These data loads rely on the availability of a file that was created by the ETL/integration tool. These data load processes are tied to the availability of the source data. Since there is no communication possible between the EPM Cloud and the ETL/integration tool, two problems occur frequently:
It is not possible to perform any ad-hoc runs outside of the defined schedule and needing to wait for 4-6 hours can be more than a nuisance. Having the flexibility to perform any ad-hoc runs outside of the defined schedule  is crucial for last minute changes that need to be processed quickly, or some important GL entries that didn't make it in just in time.
It is not possible to process data for a prior period: the ETL/integration tool typically runs for a specific period, but changing this period on an ad-hoc basis can be tricky. This is less of an issue in a production environment and more problematic in a testing/QA environment which might require other periods to be processed, but overall is another area where a lot of time is wasted.
How should data integration work?
There are several factors to consider, but let's start with the ones that are most relevant to this article:
One major part for processing data efficiently is Transparency. The logic for the business critical financial data should never be hidden inside a black box that denies Finance and Accounting teams a better understanding of what is happening. This is especially critical for processes that have grown organically over many years, implemented by a key resource that happens to leave an organization. Some customers don't even know which processes are generating the data files – which represents a significant business risk.
Another major factor is the ability for Finance and Accounting to take Control over their processes. Seamless integration between EPM applications and on-premise source systems should be the norm and easy to implement. Often this is only possible as the result of a complex configuration and implementation effort which then allows application owners to define the required input parameters in an easy-to-use fashion.
Modernize and Simplify EPM Data Integration with ICE Cloud
ICE Cloud – which stands for Integrated, Compliant and Efficient Cloud – dramatically simplifies data integration and automation for EPM processes and delivers a smooth, easy-to-understand experience for Finance and Accounting users. It eliminates the business risk and lack of understanding that comes with the Black Box approach and allows application owners to take full control over their processes. The results are transparency, the ability to take full ownership and a much shorter time to implement enhancements or resolve data related problems.
How is ICE Cloud different?
Here are three examples of how ICE Cloud modernizes and simplifies Data Integration for EPM applications:
Transparent logic of data processes: not only is the processing logic accessible by any user with the appropriate privileges, but ICE Cloud also simplifies data analysis for more complex extraction logic and makes it easy for business users to understand exactly what is happening in the system.
Direct integration between on-premise and cloud applications: ICE Cloud's architecture provides both secure access to data from on-premise applications as well as seamless integration to take full control over the data load parameters. This results in the required flexibility that application owners need to manage their processes with ease.
ICE Cloud makes data integration EASY – let's split this example into two groups of users:
* * * for those of you who like to use Data Management: ICE Cloud simplifies the creation of a source file and fully automates the upload process to the DM inbox. In addition to this ICE Cloud also provides a Log Analyzer which translates the long and complex-to-read log files into meaningful content
* * * for those of you who would prefer to load data directly and by-pass Data Management: ICE Cloud provides an easy-to-use mechanism for direct integration between on-premise source systems and EPM applications. Similarly to Essbase Load rules, ICE Cloud's "Application Intelligence" allows business users to effortlessly build data load processes which are fully validated and provide detailed guidelines about any required actions.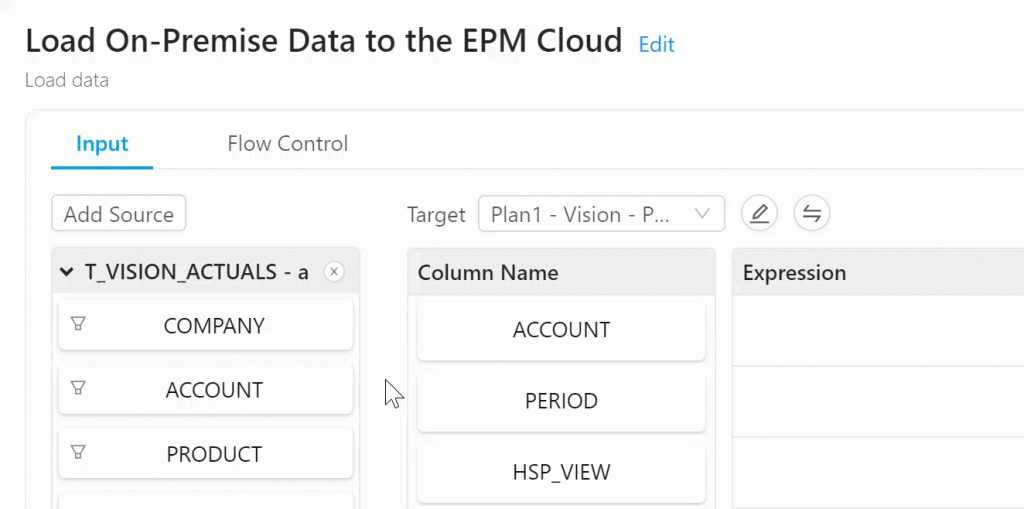 Learn More
ICE Cloud is a powerful data integration and automation platform for finance and accounting users. It possesses all relevant features that IT integration platforms offer, but provides them in a much more user-friendly format, hence allowing business users to reduce risk and manage integration and automation processes with confidence.
This article just scratches the surface of ICE Cloud's capabilities. Data Integration and Automation is "only the tip of the ICE Berg" as we call it. Contact us to find out more about how ICE Cloud is revolutionizing the way organizations integrate and automate their finance and accounting environments.
And always remember: (Do you) love your EPM? Love it even more with ICE Cloud!