This article acknowledges a tried-and-tested approach for EPM Cloud automation, and challenges this approach in an effort to increase the efficiency of EPM teams and reduce the overall risk for an organization:
Today Data Management* and EPMAutomate are the standard for Oracle EPM Cloud integration and automation, and for good reason: EPMAutomate is a free utility (with your EPM Cloud subscription) that can be used to automate many basic tasks – but is this really the right choice to drive the performance and increase the efficiency of your financial systems environment?
Based on feedback from talking to many EPM customers, we found the following pattern:
Data Management itself basically works for mapping and loading the data to the various EPM Cloud applications (PBCS, FCCS, ARCS, PCMCS etc.). Integrating the data from various source systems can be tricky and complex in many cases.
Using EPMAutomate to build automation processes is somewhat possible, but there are several downsides which inhibit the user experience, resulting in significant troubleshooting efforts.
Please note: this article focuses primarily on the automation aspect, specifically related to EPMAutomate. Data integration will be discussed in depth in an upcoming article.
Automating Oracle EPM Cloud Activities
Given that EPMAutomate is a free – and the only – utility with your EPM Cloud subscription that can be used to automate basic tasks, explains why companies have been utilizing this tool in the past. However, there are major deficiencies that many customers are experiencing. Some findings are:
Seamless Integration: unless the source system is fully supported by Data Management (which is currently the case for only a few ERPs), flat files need to be generated and uploaded to the EPMCloud. EPMAutomate does not allow the creation of these files, therefore this step needs to be performed either manually or by using third party tools (e.g. Oracle Data Integrator, Informatica, SQL procedures), making integrations complex and hard to maintain
Note: seamless integration saves time, eliminates dependencies and prevents human error. By choosing the right tool this can be achieved with ease.
Advanced Automation with robust error handling: building a rudimentary automation process without any complexity in which everything works as planned (a REAL best case scenario!) seems possible and can be accomplished with EPMAutomate. The truth is, as soon as something goes wrong, REAL problems begin and processes become very inefficient. A common approach is to write complex scripts to handle some error conditions, which are usually still not robust enough. On top of this, they are hard to understand and difficult to maintain for team members who haven't created them.
Note: automation plays a key role for an organization's Digital Finance Transformation. Defining a sequence of steps to automate a process is a starting point, but real value is created when processes are agile and robust.
Transparency: process information is not captured consistently within EPMAutomate because there is no central repository which allows to quickly view end-to-end process executions. This also increases the time and effort when the auditors are reviewing the application and are requesting detailed information to ensure compliance.
Note: transparency is essential to get more insight into the processes, allowing to analyze problems quicker. Visibility is key for enabling administrative teams to manage and troubleshoot their EPM automation processes efficiently.
Improving automation processes for Oracle EPM
One of the core objectives that financial systems are supposed to address is to establish repeatable processes which produce accurate results. With every step that is done manually or not fully integrated, repeatable processes with accurate results are always at risk and doomed to fail, causing potential data issues as well as system integrity and compliance. The outcomes are issues, failures, and inefficiencies within the FP&A process, sometimes even resulting in delaying the financial close.
By improving the automation processes within the Oracle EPM environment (both on-premise and cloud), companies are able to ensure the accuracy and integrity of their financial data. Crucial differentiators for meeting the objective of truly repeatable processes and to dramatically increase the efficiency of the finance department are:
Seamlessly connecting disparate applications,
building automation processes which are capable of handling errors and
allowing admin teams to fully understand what their EPM processes are actually doing.
ICE Cloud – Simplify automation for EPM Cloud (and many other advantages)
ICE Cloud is a revolutionary platform which is built based on the experience of more than a decade of implementing custom integration and automation processes for Oracle EPM/Hyperion.
With an intuitive user interface, ICE Cloud simplifies many aspects of an Oracle EPM environment. Integrating data from virtually any source system, configuring advanced automation processes with built-in error handling and allowing the financial systems teams to identify and resolve errors much faster is the foundation for improving your financial processes. This expedites the preparation of data and eliminates the risk from human error, thus boosting confidence in the data based on which mission-critical decisions will be made.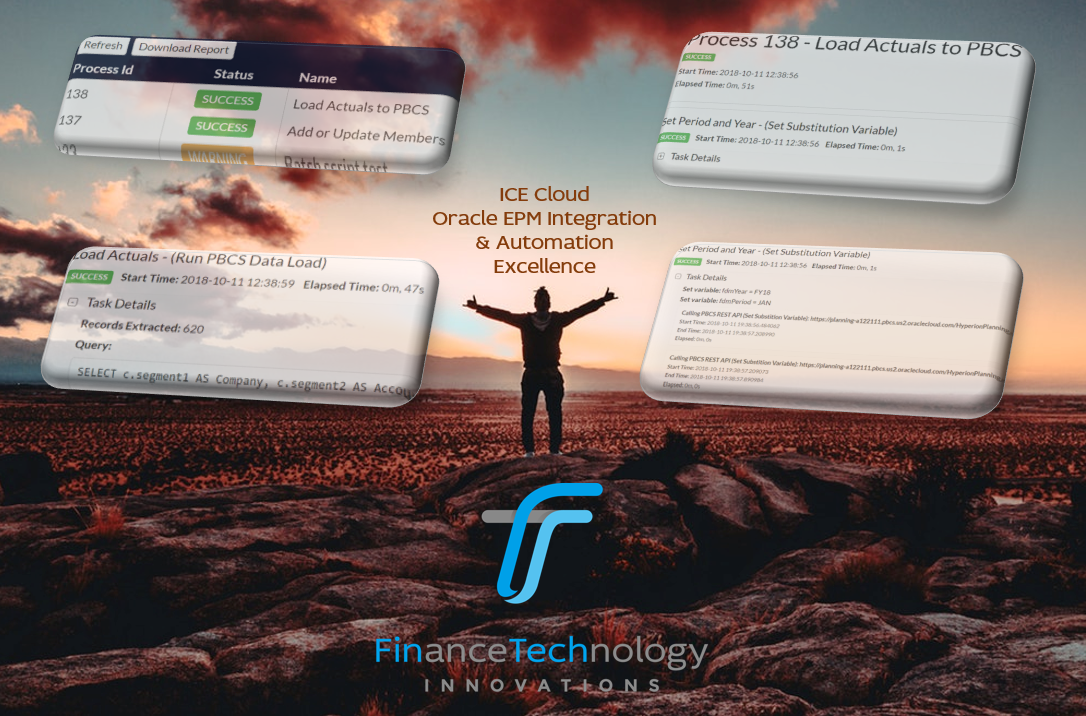 Learn more
To improve the efficiency of your EPM processes as well as the team that supports it, the main factors are seamless integration, advanced automation and transparent processes. With ICE Cloud, companies increase the efficiency of their automation processes dramatically – without writing a single line of code.
* In this article the term "Data Management" refers to what is also called "Cloud Data Management", "FDMEE in the cloud", "FDMEE Light". Any references will apply partially to FDMEE on-premise as well, but there are some differences between the on-premise and cloud versions (for more information see "FDMEE vs Cloud Data Management", written by Tony Scalese from Edgewater Ranzal)